March Newsletter with the launch of our Continuing Professional Training
Welcome to the March Vinescapes newsletter
We've been busy the past few months and are really proud to be launching our new Continuing Professional Development (CPD) training service for vineyards and wine makers. Please find more details below.
With the frost risk season also approaching we've been out with UK vineyards providing advice on the best protection and mitigation strategies. And here  you will find Dr Alistair Nesbitt's top tips to help vineyards prepare for the frost season.
Our consultancy services continue to grow with work taking us from Cornwall to Scotland as clients seek to understand if their land is suitable. If you'd like to understand if your land is suitable for vines why not give our online VineMAP product a try.
CPD Training – Launch
At Vinescapes we believe that Continuing Professional Development (CPD) for UK grape growers and wine producers is vital for the development and sustainability of the sector. Supporting career progression, up-skilling and providing access to the latest knowledge will help vineyard, winery and wine businesses excel.
Our Advanced Pruning courses by Dr Glen Creasy focusing on vine capacity, vine balance and the ideal vine are now available for those looking to deepen their knowledge and understanding in this critical area of vine management.
For our latest course catalog: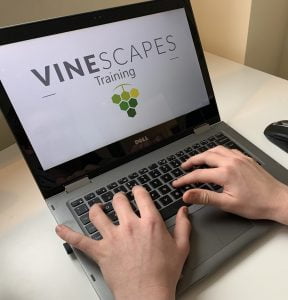 If you would like any vineyard/winery advice or guidance please feel free to contact us. We offer a free 20 minute consultation for any initial advice you might need.
Best wishes,
Vinescapes