Exceptional winery design is critical to high quality wine production, returns on investments and your wine production story.
Our extensive understanding of wine production technology and processes, efficient and safe winery space requirements, and sustainable winery architecture enable us to deliver exceptional and cost-effective wineries.
Where we also recommend and supply winery equipment, advise on waster water treatment and energy efficiency, work with planning authorities, and project manage all aspects of winery design and builds.
Winery Scoping
We specialise in winery scoping and have significant expertise, having worked with many UK wineries, to design and deliver their winey requirements. This includes the space required for the winery, storage and tasting room together with technical winery specification requirements to ensure the design matches the winery needs.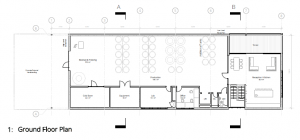 Vinescapes work with Design cubed (Architects) to meet the needs of clients in designing and delivering modern, efficient and sustainable wineries.
Our successful partnership can provide you with all the expertise you need from scoping winery needs, wine storage and winery equipment requirements, budget calculations, project feasibility briefs, concept designs, spatial coordination, procurement, construction, planning consultancy, pre-planning and full planning applications.
Recent winery design and build projects
Steel framed buildings
Vinescapes work with Formabuild who provide steel framed winery buildings.
Steel framed buildings can provide a simple solution for a winery. With controlled atmosphere, storage and production facilities available. Formabuild work creatively to design bespoke buildings which can incorporate local cladding materials in innovative ways to reduce the impact of the structure on the surrounding landscape.
Why winery design matters
A winery can be so much more than an industrial production centre – it's part of your brand and it can be as sophisticated as your wine. Read the article:  Why winery design matters by Dr Alistair Nesbitt, Vinescapes CEO, published in The Grape Press, December 2021.