Specialist equipment we provide
Alongside its service offerings Vinescapes sells frost protection equipment for vineyards. Further details can be found below.
Mobile frost fans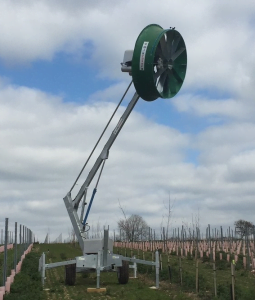 Selected Inverted Sinks
Vinescapes is working in partnership with Mikrosera, a Turkish based manufacturer of mobile Frost Fans that protect vineyards from radiation frosts. Their mobile frost fans have 5 major points of efficiency that sets them apart from the crowd:
1. ENGINE POSITION – The engine is connected directly to the fan, eliminating the potential loss of power associated with ground based engines.
2. DUCT – The duct increases the fans performance by up to 95%, eliminating the loss of power, due to resistance, at the tip of the blades.
3. BLOW DIRECTION – Air is sucked from behind and blown forwards. Unlike some conventional fans there is no obstacle blocking air flow.
4. AERODYNAMICS – Air blown from a Mikrosera Frost Fan travels through the air in a more linear way thanks to its innovative aerodynamic design.
5. CONTROL SOFTWARE – Custom built control software and a selection of standard and optional sensors enable the Frost Fan to act as a weather station and enable remote monitoring and operating functions.
What to Expect
Every radiation frost event is different, different atmospheric conditions, different inversion layer strengths, different temperatures, different length of sub-zero temperatures, different soil moisture levels, and different vine development stages. In general though, with a decent inversion, a Mikrosera Frost Fan on flat land can protect on average:
4 hectares of land down to -3°C
3 hectares of land down to -4°C
1 hectares of land down to -5°C
For more information please contact us.
A video on the Mobile Frost Fans can be seen below. Further video's including noise demonstration are available here.
Vinescapes partner with Ex-Frost providing Selected Inverted Sink (SIS) frost fans.
SIS extract cold air vertically drawing cold air into the bottom thrusting it upwards (80m) allowing warmer air to lower preventing frost damage in the vines.
This technology is used across the globe and many vineyards in England have already moved to this automated, relatively quiet and environmentally friendly technology.
The SIS frost unit is fully portable and has an effective coverage of Three (3) hectares in undulating topography. Designed as a stand-alone unit that starts & stops based on temperature setpoints. SIS Frost Unit is a light weight rigid steel construction (350kg) in a powder coat finish with a smooth rolled internal surface to allow free air flow.
Full information can be found on their website http://exfrostprotection.com/